OyezForms SharePoint Client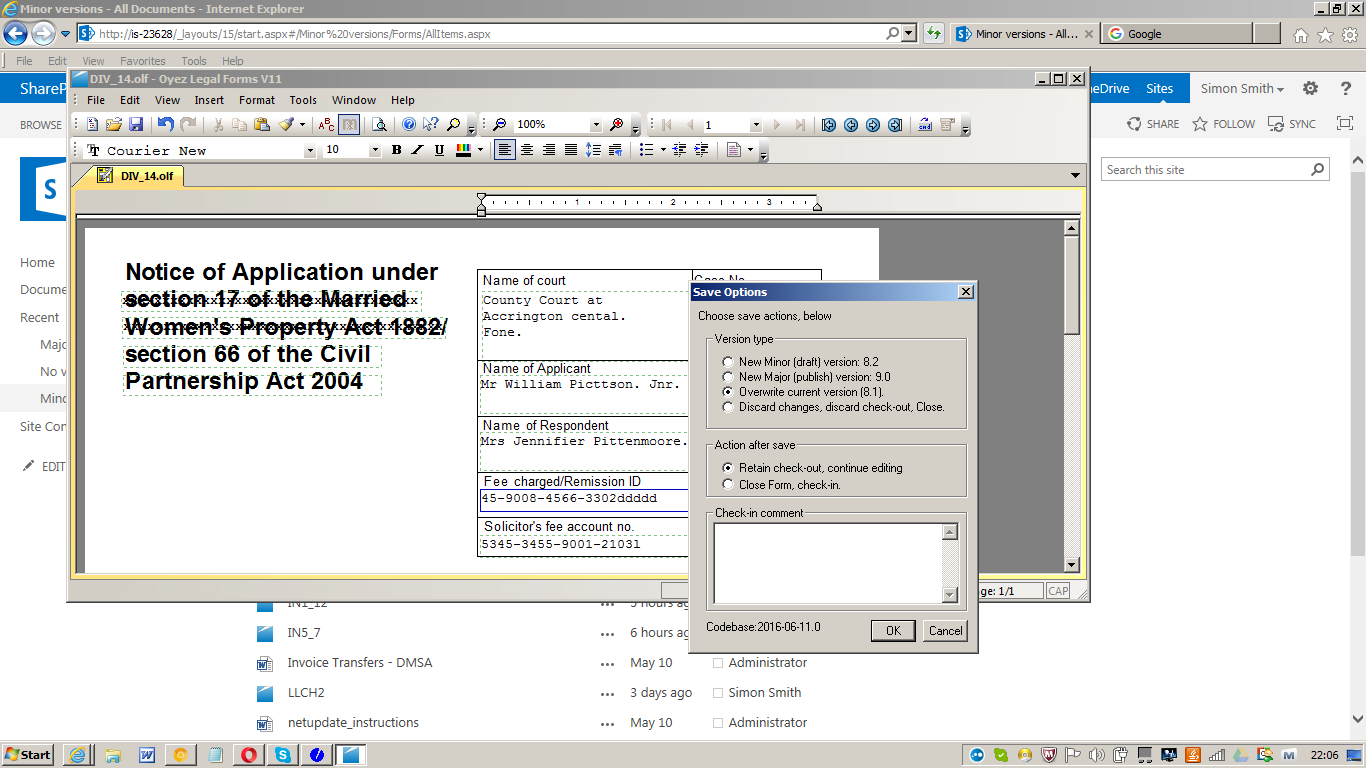 Oyez have developed an interface for opening and saving forms to/from SharePoint's DMS features. Standard web pages generated by SharePoint provide the user search/browse/open experience.
Newly-created OyezForms and FILE>SAVE-AS actions trigger a choice of saving into SharePoint or the local filesystem. The behaviour of the client can be configured (see below)
Prerequisites
SharePoint Server 2010+, accessible to all PCs running OyezForms.
Client PCs: dotnet 3.5 framework. (3.5 specifically is required for compatibility with the SP2010 api).
Client PCs: OyezForms version 11.01P++
Installation - server
On all servers running IIS to produce SharePoint webpages, alter the

\Web Server Extensions\14(or 15)\TEMPLATE\XML\DOCICON.XML

file by adding the following values to the <ByExtension> node :
(note: white spaces can be critical in the DocIcon.xml. Please reproduce the above exactly. )
Place this icolf.png file in

\Web Server Extensions\14 (or 15)\TEMPLATE\IMAGES\

.
Restart SharePoint websites in IIS
You can test if the above changes have worked by inspecting the source of a SP document page listing your oyez documents, and searching for 'oyez.opendouments'. You should find at least one match. This is a parameter created by SP-generated java script.
Installation - client
Code install on PCs
Install the OyezForms_SP_Client.msi on all PCs that have OyezForms installed. In time, this code will be assimilated into the standard OyezForms install.
Installation - OyezForms
Ensure the following application-level macro code is running to capture user events: oyezfrms.bas.sp.txt. You can download, rename, and overwrite the existing oyezfrms.bas file in your OyezForms application folder. If you have existing application-level scripts, you must manually integrate these. Help is available.
Setting Internet Explorer security
Because SharePoint is a website, and OyezForms a local application based on locally registered code, you will need to modify IE security settings to allow trusted webpages to trigger local code. The following is a possible approach, but security is your own responsibility. It assumes SharePoint is on your local intranet.
In IE11, select TOOLS>INTERNET OPTION: SECURITY tab
Select 'Local intranet' icon
Click 'Custom level' button
Find: 'ActiveX controls and plugins' > 'Initialise & script ActiveX controls marked as safe for scripting', and select 'enable'. *
Click 'OK', and 'OK' to all dialogues to return to the browser web page.
Exit IE, and re-launch
* Oyez have marked the source code of their controls as 'safe for scripting'.
Configuring client behaviour
The following constants in the application macro control the SharePoint client's behaviour.
Authenticating with SharePoint
The OyezForms client will attempt to authenticate with the SharePoint host in the following order:
Windows Credentials Store

- if the SharePoint URL matches a stored item, use these details.

Impersonate

- user's windows login ID will be offered.

Manually Entered Credentials

- If 1 & 2 fail, the user will be prompted to enter credentials manually. These are encrypted using a Microsoft api and stored in the registry. The correct input format is NetBIOSDomainName\Username.